Please click on the above banner to visit our sponsor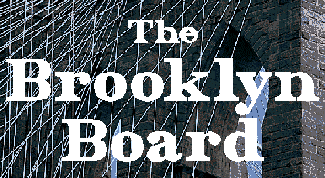 For displaced, misplaced, and nostalgic ex-Brooklynites
---
SURVEYS and POLLS
---
During the first few years of its existence, the Brooklyn Board presented a survey to its audience on topics intended to reveal various attributes of our "boroughs" past. The results of these surveys are tabulated and presented here for your enjoyment.
To view the results of any of these surveys, or to participate in one that is currently "open for input", click on the survey name
March, 1997
WHEN, WHERE AND WHY?
Examines the details about where in Brooklyn you lived, and when and why you left.
April, 1997
SCHOOL DAYS
A profile of what schools you attended, and how you feel about the education you received.
May, 1997
WHERE ARE WE NOW?
Where did everyone go? Discover where, and why, in this interesting survey.
June, 1997
DINING OUT
A whimsical examination of your dining-out habits back in the you-know-what days.
July, 1997
AT THE MOVIES
And where did you see "The Ten Commandments" before it was aired on TV?
November, 1997
STREET GAMES
The streets of Brooklyn were a vast playground, and the games played there were a wealth of imagination, daring, and childhood enthusiasm. This poll lets you relive the Brooklyn "spin" on these games.
March, 1998
BECAUSE I'M FROM BROOKLYN
Think you got out of Brooklyn without a trace? Have you looked in a mirror lately? In this whimsical poll, ex-Brooklynites told us what effect Brooklyn had had on their personality.
June, 1998
WHEN, WHERE AND WHY REVISITED
Here's a repeat of our very first survey to accommodate input from the latest Brooklyn Board audience.
January, 1999
SHOPPING IN BROOKLYN
So where did you go to get those shoes on sale? And your fresh vegetables? Let's find out about your Brooklyn shopping experience.
---
[Return to The Brooklyn Board]
---
©1997 SofTech Consulting, Chappaqua, New York